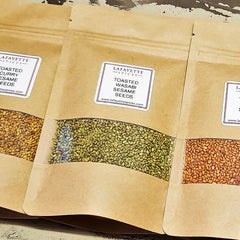 The process of toasting your own sesame seeds couldn't be easier. The reasons for toasting the seeds vary, but it's generally agreed on that toasted sesame seeds taste and look far better than untoasted. Toasting them brings out their nutty sweet flavor qualities, gives them a tantalizing brown color, and a satisfying crunch that can't be beat. Anyone can do it!
These tasty seeds can be used for topping just about anything! Sprinkle them across a peanut butter topped toast with sliced banana. Or if a more savory breakfast is your thing, they make for a delicious crunchy addition to a bagel with cream cheese. Head into lunch time and add a pinch to your salad! It's a tasty way to add a quick and easy boost of protein. At dinner time, toasted sesame seeds can be added to anything from soups (think ramen, chicken noodle, butternut squash) to salads (like greek, Caesar, and garden) to full sized heartier entrees like roasted chicken, braises, stews, and curries. The possibilities really are endless.
Let's dive into a little bit of the nutrition. Sesame seeds are absolutely packed with good things. They've been around for thousands of years and have been used in folk medicine for centuries to protect against heart disease, diabetes, and arthritis. Because the seeds are so small, you many need to eat a significant quantity, like a handful a day, to see the health benefits. Sesame seeds are an excellent source of fiber. Just three tablespoons of sesame seeds are equal to 12% of your recommended dietary intake. Fiber is of course well known for supporting dietary health. The seeds may help lower your risk for heart disease. Because the tiny seeds are chock full of polyunsaturated and mono unsaturated fats, they may help lower your cholesterol and therefore decrease your risk for heart disease. They may support your immune system too! Sesame seeds are loaded with zinc, selenium, copper, iron, vitamin B6, and vitamin E. All of these nutrients are critical to your immune system and help it stay on top! Eat more sesame seeds – they're great for your health!
If you're not doing your own cooking, sesame seeds are easy to find in a number of different foods. You'll see them in stir fry's and steamed broccoli. Cereals, granola bars, breads, and muffins. Crackers, yogurt, smoothies, salads, salad dressings, and hummus. Sesame seeds are so prolific in the foods we eat today, it's almost hard to avoid them!
It's time to get down to the purpose of this whole article – toasting your own sesame seeds! We've found that the best and easiest way to toast them is in the oven. Start by preheating the oven to 350 degrees F. Arrange the seeds in a single layer on a baking sheet or an oven proof pan. Bake the seeds until golden brown and fragrant, stirring occasionally, about 8 to 10 minutes. When they're ready, pull them from the oven and transfer to a plate where they can cool. It's literally as easy as 1 – 2 – 3!
If toasting them yourself isn't your thing, we've got a great option for you. Our seasoned Toasted Sesame Seeds are not only already toasted to crunchy perfection, but they're seasoned with delicious flavors like Curry, Tex Mex, Yuzu, and Wasabi. Doing things yourself is always fun, but we want you to know you have options just in case you'd rather go the even easier route!
Whether you choose to toast them yourself, or go with a pre-toasted option – get snacking! These little seeds are full of flavor and crunch and they're great for your health!