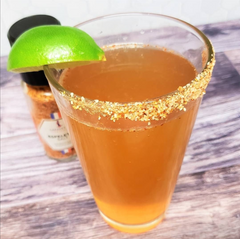 Cooking, like reading, is one of those wonderful activities that can instantly transport you to another place, without having to ever step foot in a car. But unlike reading, cooking is more of an immersive experience, with not only your mind being stimulated, but also your eyes, nose, and sense of taste and touch. Though a myriad of recipes you can travel to far flung places and taste exotic flavor profiles. As the weather here in the Northeast begins to turn colder, it's easy and inexpensive to take a trip to anywhere in the world (though a warmer locale is always preferred!).
Many of our spice and seasoning offerings can help you take this imaginary trip, but today we're focusing on one of our particular favorites – the Espelette Pepper Salt and a trip to its origin, the southwest of France. The espelette pepper is a very special one – perhaps one of the most revered peppers in all the western hemisphere. It's cultivated in the French commune of Espelette - in the Pyrénées-Atlantiques, a department in the southwest corner of France. It takes its name from the Pyrenees Mountains and the Atlantic Ocean. It covers the French Basque country and the Béarn. In 2000 the pepper was classified as an AOC product – which is a special French certification typically reserved for very important wines, cheeses, and butters. It is based on the concept of terroir and a form of geographic protectionism. 
The peppers themselves are sweet, slightly smoky, and only obtain a maximum of about 4,000 on the Scoville scale – considering them to be pretty mild. The most impressive part of these tasty little peppers is perhaps their extreme versatility. When blended with coarse Spanish salt – it becomes a recipe for greatness
One of our favorite applications is an icy cold chelada. The chelada is a Mexican beer cocktail that's refreshing and so so easy to make. The irresistible drink pairs Mexican lager with lime juice and an Espelette Salt rim. A Chelada is a type of cervesa preparada: a beer cocktail or "prepared beer" in Spanish. There are a few types of this popular beer cocktail: best guess is that it came to be in the 1960's. There are all sorts of variations on it all over Mexico, so there's no "official" recipe. One theory on where the name came from: ordering "mi chela helada", which means "my ice cold beer" in Spanish! But no one knows for sure. Another cervesa preparada is called the Michelada, which is very similar. But the standard definition is that the Chelada features Mexican lager with lime, where the Michelada is like a Bloody Mary made with beer. Here's what you'll need for a Chelada: Mexican lager beer (like Sol, Corona, Modelo, or other), Lime juice, and Espelette Salt for the rim.
Simply rim your glass with a little lime juice and the crushed Espelette Salt, then add more lime juice and ice to the glass. Pour in your beer, and you're ready to kick back and relax! It really couldn't be easier.
Serve this delicious and easy cocktail with tacos, chips and dip, or just a little salsa music! Whether the sun is shining or not, you're going to feel like you're on vacation in Mexico! The smoky Espelette Salt is the perfect counterpoint to the cold lime infused beer. Cheers!