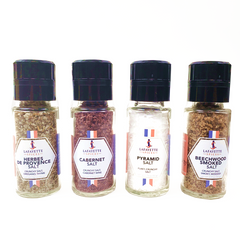 Meat lovers around the world (and there are many of them) can now find solace in the fact that there is now a box of spices devoted just to them! Our Meat Lovers Salt Box is devoted to the meat lover in your life – whether its steaks, chops, sausages, burgers, you name it! These salts will take those otherwise boring slabs of meat and turn them into something extraordinary! While there's nothing wrong with just a little salt and pepper on a piece of meat, these incredible and flavorful salts will take them to the next level. Our Meat Lovers Salt box contains amazing salts that are going to give new life to your roasted and grilled meat dishes. Try with barbecue, roasts, and grilled meats. The perfect accompaniment to sliced steaks and chops. Roasted chicken will never be the same! The Box includes Herbes de Provence Salt, Cabernet Wine Salt, Pyramid Salt, and Beechwood Smoked Salt.
If you're looking for a standout seasoning that will not only transform your cooking, but also make your friends and family jealous of your culinary prowess, do we have the just the right thing for you! Our Herbes de Provence salt is not only exotic and intriguing, but totally user friendly and impressive! The blend can include thyme, marjoram, oregano, rosemary, basil, chervil, tarragon, lovage, savory, sage, bay leaf, and fennel. And we can't forget about the salt! This intensely flavored salt is from Guerande France, a city on the western coast of the country – known for its salt marches. The beauty of the Herbes de Provence Salt lies in its versatility. The mix works beautifully on duck, turkey, and other poultry, but can be just as impressive when crusted on lamb or even a meaty piece of pork.
Our Cabernet Salt is a bright purple stunner. An incredibly classy and delicious finishing salt. True French Guerande sea salt is soaked in rich cabernet wine, then dried – it's an infusion that will really knock your socks off. Loads of intense wine flavor in every crystal - little flavor bombs! The bright purple tones of this exquisite salt pair beautifully with sliced red meats, roasted vegetables, and sweet ripe summer tomatoes. Flavors of this salt range from green pepper and tobacco to hints of cassis, dark fruit, and cherries. Pair it with red meat like steaks, burgers, beef short ribs, and grilled or roasted lamb.
Our brilliant Pyramid Salt is truly a work of art in and of itself. A true Mediterranean delight, it hails from Cyprus Greece. The unique pyramid shape of the Pyramid Salt is created through the process of solar evaporation of sea water where the water is channeled into a chain of shallow ponds or lagoons and then into large pans where the water is gradually heated, forming the pyramid shapes of the salt. The process continues until the salt reaches 3% humidity, and can take up to two years to complete. . We love the idea of finishing slices of rare roasted beef with the Pyramid Salt. Not only beef, but sliced duck, chicken, and lamb would all benefit from the crunchy pyramids.
The Beechwood Smoked Salt has an intense smoky flavor that's going to kick your dishes up a few notches, guaranteed! You'll be amazed at how it transforms an average dish into something really extraordinary. The salt is harvested in the Guerande region of France and finished with a 10 day beechwood smoking process. The true beauty of this salt is in its versatility. Everyone knows that smoky grilled meats are some of the most delicious stuff on the planet! Now you can have the same results without the arduous task of grilling. Consider a little bit of the Smoked Beechwood Salt on thin slices of raw beef tenderloin. The two make an incredible combination - delicate flavors of raw beef and intense smoky salt crystals are a match made in heaven!