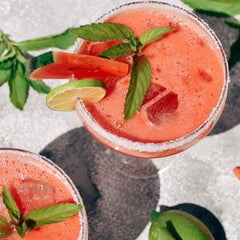 Who doesn't love a good cocktail after a long day at work? If you're a fan of afternoon toddies (alcoholic and non) you won't be disappointed with some of these spice and cocktail concoctions we've come up with. From light, icy, and refreshing to boozy and punchy – we've got some fun and delicious combinations to make your next cocktail hour something really special!
Let's start with one of our summertime favorites – the mojito! This icy slurry of mint, sugar, limes, and rum gets a major citrusy boost from our famous Timut peppercorns! This exotic spice comes all the way from Nepal and is one of our absolute favorites for its intense lemon lime punch of flavor. When it comes to adding these beauties to a cocktail, it simply couldn't be easier! Simply muddle a couple whole Timut Peppercorns along with the limes, sugar, and mint. The flavors of the Timut infuse beautifully, and when you get a small piece of the peppercorn in your sip, it really sings (and zings)!
Next up, that classic brunch go-to, the bloody mary! We've got a plethora of salts and spices that would work well in this drink, either in the mix itself or used a rim garnish. If you're looking to get some real spice into the bloody mary mix itself, we'd recommend one of our powerful peppercorns. Try grinding in some of the smoked long peppercorns for notes of bonfire and earthiness. The Kampot Red Peppercorns also make for a flavorful addition. These hot and spicy fireballs are packed with heat and will have no problem giving your bloody that punch of heat you crave. The Kampot adds notes of dried fruit and warm spices like cinnamon and clove. It's sure to be the most complex bloody mary you've ever made! And don't forget about the rim! Crust the edge of your glass with one of our Toasted Sesame Seeds or incredible finishing salts. We'd recommend the Tex Mex or Yuzu Sesame Seeds. The Crazy Salt or Beechwood Smoked Salt would also make an outstanding rim garnish.
Let's turn our attention to a classic vintage cocktail, the Manhattan! You just can't go wrong with this old fashioned staple. Try infusing your sweet vermouth with one of our signature peppercorns! It'll give your Manhattan a complex boost of flavor and the slightest kick of heat. We'd recommend using the Kampot Long Red Peppercorns for their subtle notes of dried fruit and spice, or the Cumeo Tailed Peppercorns for light and refreshing hints of citrus.
How about a margarita?! It is summer after all – peak marg season! Instead of rimming the glass with boring table salt, try using one of our gourmet finishing salts. Not only are they packed with fantastic complimentary flavors, but they look beautiful too! We have so many finishing salt options – adding any one of them would make an incredibly memorable cocktail. Rim the edge of a mezcal margarita with Beechwood Smoked Salt for an extra smoky kick. Or Espelette Pepper Salt for a touch of smoked sweet red chili. Our Pink Himalayan Salt with Roses would also make for a beautiful touch of added floral notes.
Let's finish the night off strong with a boozy nitecap. One of our favorites, the boulevardier is ripe with opportunity for adding in a little spiced pizazz. The drink is a bourbon based version of the classic negroni cocktail – a trifecta of bourbon, Campari, and sweet vermouth. Try infusing the sweet vermouth with some of our potent peppercorns for an added kick of exciting flavor. Personally, we'd go with our very own True French Lavender for soft floral notes. Or our Pink Peppercorn for added nuances of sweetness and wild green juniper.