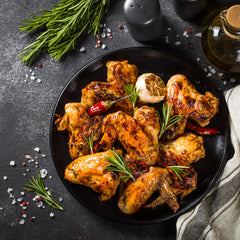 We're fully in the swing of summer now, and that means its prime grilling season! It's time to fire up the Webber and light the charcoal – sweet, savory, smokiness awaits. Right now, we're grilling everything from ribs and chicken to fresh sweet corn, ripe tomatoes, and juicy peaches. Thankfully, when it comes to seasonings, Lafayette Spices has our back with some of the best options in the world!
Crazy Salt it likely one of our favorite go-to grill seasonings. Its intense bold flavors can hold up to the heat and smokiness of grilling, and its versatility makes it a useful seasoning for not only meats, but seafood and veggies too! We love rubbing a whole chicken with olive oil and Crazy Salt, then placing it on the grill for a slow cook. The spices and herbs in the Crazy Salt infuse into the meat and make for one delicious bite after the next. If it's seafood you crave, crazy salt makes an incredible seasoning for shrimp, scallops, squid and whole grilled fish. The rosemary in the salt lends the perfect herbaceous touch that makes the seafood really sing. If it's veggies you're in the mood for, Crazy Salt has your back too! Sprinkle this bold condiment on grilled sweet corn, halved zucchini, or stalks of fresh green asparagus. The notes of cumin, pink peppercorn, and coriander are a brilliant pairing for all things plant based!
Another one of our favorite grilling seasonings is the Wild Tailed Peppercorn. It pairs perfectly with beef. We'd recommend grinding it just before you're ready to use it and sprinkling it generously over the piece of meat. The earthy woodsiness of the peppercorn work in beautiful harmony with the rich meaty beef. Try sprinkling some on your next backyard burger, or thick ribeye steak. Also works wonderfully on ribs and shish kabobs! The possibilities are really endless, and you're next beef grilling escapades shouldn't be without Wild Tailed Peppercorns!
Another peppercorn that's excellent for grilling are our Tellicherry Peppercorns. They're larger than your average pepper because they are left on the vine longer – this process is what gives the peppercorns their deep, rich flavor. Hailing from Tellicherry India, the pepper berries are painstakingly hand smoked and will certainly remind you of your childhood barbecue. Aromas of robust smoke and fruitiness. This is your go-to peppercorn this summer – use it for seasoning pork chops, steaks, burgers, and chicken. Wonderful on seafood before grilling – imagine this smoky goodness on some grilled shrimp, or a swordfish steak! What a meal…
And let's not forget about the salt! Our Beechwood Smoked Salt is really something special. This is Pure French Guerande Sea Salt that has been gently smoked over beechwood for 10 days. While most other smoked salts are artificially sprayed with flavor – this Beechwood Smoked Salt remains totally natural, and incredibly intense. Because of the elongated processing technique, this salt has superior flavor and texture characteristics. Because of its intense smoky aroma and flavor, this salt is ideal for items that you're not able to apply elongated amount of hot smoke to. Think delicately grilled scallops, oysters, and other shellfish. A little sprinkling on grilled corn and other summer veggies would also be an excellent way to utilize this smoky powerhouse salt.
Grilling is a great way to have fun outside in the summertime. Make sure it's tasty too! Lafayette Spices is an easy way to add great flavor to whatever you might be grilling up this summer.