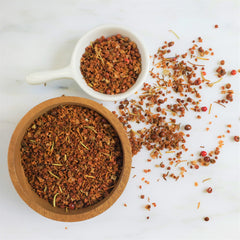 In today's fast paced world of limited time, limited space, and a need for quick and easy but delicious meals – the seasoning salt reigns supreme. It salts and seasons all in one shake.
Not only can it be kept by the oven for mid-cooking seasoning. It can also reside on the dining table, ready to spice up your plate at a moment's notice. But not all seasoning salts are created equal. Enter Crazy Salt – quite possibly one of the most versatile seasonings on the planet. It's going to change the way you cook and add flavor to your food. One of those things that's "good on everything" – but it actually is. Not many ingredients can make that claim, let alone a seasoning salt. But this stuff can. It's one of those ingredients that's just as at home on an expensive sliced piece of meat as it is sprinkled over some freshly grilled corn or even tossed with popcorn for movie night! It's big and bold, but it's also instantly crave able. We're positive that they're going to become your new favorite go to seasoning. Hot sauce is so 2000's. It's time to start spicing up your life for real!
The spice's base is no joke – the intensely flavored (and colored) salt is from Guerande France, a city on the western coast of the country – known for its salt marches. In these marches, salterns have been built, where workers collect up to 15,000 tons of cooking salt each year and approx. 300 tons of fleur de sel or "flower of salt" per year. The process is quite simple, tides feed the water reservoirs with sea water, where it gets trapped and begins to evaporate. That process of evaporation continues until there are only a few centimeters of sea water left. Ultimately, the salt crystalizes and produces fleur de sel and coarse salt.
But that's just the beginning! The salt is then seasoned with six (yes you read that right) powerful spices to give it that ultimate addicting flavor. First, crushed pink and black peppercorns are added. The pink peppercorns alone are a real thing of beauty. Not actually a peppercorn at all, but rather a berry from the shrub Schinus, more commonly known as the Peruvian peppertree. Initially, the flavor is quite sweet. Those hints of sweetness give way to a complex flavor profile of juniper and spruce, spiced woodsy notes, and earthy forest flavors. The black peppercorn used is amongst the best in the world – with a bold flavor and hints of fruit, cocoa, and woodsy spices. On a spice scale, the heat index is milder than the Tellicherry or Wynad pepper cousins. It does have a distinct kick that leaves a pleasant tingling zing.
To that already potent combo, four more spices are added: Thyme, Chili, Cumin, and Coriander. These powerful spices combine to create a blend that is not only super flavorful, but complex, satisfying, and delicious! The only remaining question is, what do you do with it? That answer is easy: just about anything you want. Crazy Salt works perfectly as a last minute seasoning on fries, veggies, eggs, mozzarella, cottage cheese… Really, anything. We like to keep it on the table and season when the moment's right, we strike! Crazy salt can also be kept closer to the stove. It's ideal for seasoning raw meats, seafood, and veggies before cooking. Grind a generous layer over a nice piece of salmon before searing – you're going to have one tasty fillet friend! The same can just as easily be done to a piece of chicken, steak, or even a juicy burger!
Crazy Salt really is one of the easiest seasonings to apply. Just plug and play! No recipes needed! Shake on a little flavor and enjoy!