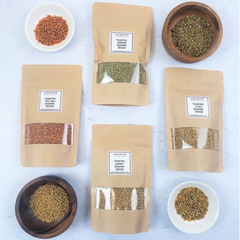 Spring is upon us! And with it, warmer temperatures and a refreshing opportunity to start cooking with new ingredients we haven't been able to use for at least a year! Peas, asparagus, ramps and strawberries, just to name a few! Our array of flavorful toasted sesame seeds are the perfect crunchy counterpoint to these bright green jewels of the spring market. By now, you've been thoroughly introduced to our line of toasted sesame seeds. These are crispy crunchy sesame seeds coated in intense flavorings like Yuzu, Wasabi, Tex Mex, and Curry. In short, they're delicious. Let's dive into some of the ways you can create incredibly delicious recipes with Lafayette Spices Toasted Sesame Seeds!
One of the easiest and tastiest applications is salads! Use the toasted sesame seeds as a delicious salad topper. Because they're already toasted, there's no cooking necessary. Just sprinkle and chow down. We'd recommend sprinkling our Yuzu Sesame Seeds over a Spring Asian bok choy salad with asparagus, soy, ginger, and crushed peanuts – maybe a little sliced chicken breast?! Delish! In the same vein, the Wasabi Sesame Seeds would be fantastic sprinkled over a springy tuna poke salad with radish and ramps.
Spring is a perfect opportunity to flex those breakfast muscles. Shake off the hot oatmeal and slice up a fresh chewy bagel! Any one of these tasty morsels would be stupendous on a morning bagel. The crunchy little seeds stick perfectly to schmeared cream cheese and would be a delicious pop of color, texture and flavor. We'd pair the Yuzu with cranberry cream cheese. The Wasabi with scallion cream cheese. Curry with the sun dried tomato cream cheese, and Tex Mex with the jalapeno cream cheese.
For casual snacking, all of the flavors would be incredible sprinkled over a fresh hummus or any dip for that matter. Pair hummus or any dip really with spring veggies like asparagus, snap peas, and radishes. Drizzle the whole plate with a little olive oil and a splash of lemon juice and flaky sea salt. Then sprinkle the sesame seeds of your choice over the top. We're not going to make any suggestions here because they'd all be incredible!
Our Toasted Sesame Seeds make it really easy to make a world class dish come alive. The Yuzu seeds would be transcendent when sprinkled on a spring inspired fluke crudo, or even topping a sweet sesame panna cotta. Not only are the Tex Mex seeds fantastic on salads, cold Asian noodles, soups (split pea) and even fried chicken! Of course, you could go with a more name worthy application too - Use them to garnish that taco al pastor, chicken mole, or even a slice of ultra-fresh pineapple. The bright yellow Curry seeds would be perfect for topping braised chicken or perhaps beef short ribs. They could even be used on a dessert, dotting fresh strawberry sorbet or a cake of sweet tamarind. And let's not forget the Wasabi, one of our absolute favorites!
The possibilities truly are endless with these tasty treats and we know you're going to fall in love with them no matter how you use them! Why use plain old boring sesame seeds when the opportunity to use powerfully intense flavorful seeds are right at your fingertips? Never reach for the boring stuff again! Add flavor, crunch, and excitement to your cooking with Lafayette Spices Toasted Sesame Seeds. Spring never tasted so good!