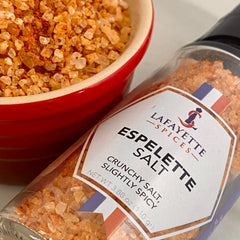 Cooking, like reading, is one of those wonderful activities that can instantly transport you to another place, without having to ever step foot in a car. But unlike reading, cooking is more of an immersive experience, with not only your mind being stimulated, but also your eyes, nose, and sense of taste and touch. Though a myriad of recipes you can travel to far flung places and taste exotic flavor profiles. As the weather here in the Northeast begins to turn colder, it's easy and inexpensive to take a trip to anywhere in the world (though a warmer locale is always preferred!).
Many of our spice and seasoning offerings can help you take this imaginary trip, but today we're focusing on one of our particular favorites – the Espelette Pepper Salt and a trip to its origin, the southwest of France. The espelette pepper is a very special one – perhaps one of the most revered peppers in all the western hemisphere. It's cultivated in the French commune of Espelette - in the Pyrénées-Atlantiques, a department in the southwest corner of France. It takes its name from the Pyrenees Mountains and the Atlantic Ocean. It covers the French Basque country and the Béarn. In 2000 the pepper was classified as an AOC product – which is a special French certification typically reserved for very important wines, cheeses, and butters. It is based on the concept of terroir and a form of geographic protectionism. 
The peppers themselves are sweet, slightly smoky, and only obtain a maximum of about 4,000 on the Scoville scale – considering them to be pretty mild. The most impressive part of these tasty little peppers is perhaps their extreme versatility. When blended with coarse Spanish salt – it becomes a recipe for greatness! It's really the perfect accompaniment to fall cooking. We'd recommend cracking a hearty amount over some butternut squash just before roasting. Don't forget a generous drizzle of local honey and some slabs of butter. The sweet smokiness of the espelette pepper will sink into the squash and you'll be left with something magical and memorable – much more so than any piece of average meat.
Another fantastic application would be a roasted cauliflower preparation. The Espelette Pepper Salt would lend a fantastic color and flavor to the otherwise pedestrian vegetable. Slather the halved cauliflower with some nice olive oil and season it liberally with the Espelette Pepper Salt. Roast until tender and crispy, then top with orange zest, crumbled feta cheese, and fresh pomegranate arils.
And what could be better than a little braised meat in the cooler autumn evenings? Sprinkle a generous layer of Espelette Pepper Salt on trimmed pork shanks. Braise until tender and serve with homemade tomato sauce and soft buttery polenta. We promise you won't be disappointed!
As the days continue to get cooler and shorter, consider using heartier spices and seasonings to enhance your food. The more intense spices can elicit a sense of warmth and keep things from getting too dreary on the cold winter nights. Espelette Pepper Salt can be your go-to in these chilly winter months. Use it to season root vegetables, soups, and hearty meat dishes like braises, stews, and roasts. The possibilities are truly endless. It's certain that the new Espelette Salt is going to get loads of use in your winter cooking. Enjoy and stay warm!