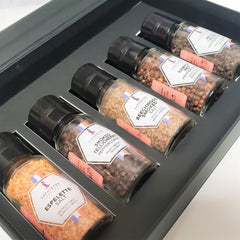 We've all gotten them (and given them) those terrible gifts that no one really asked for. A new toaster, a compilation cd of terrible 90's country music, an uncomfortable itchy sweater, and so many others. Most of us are just as guilty in giving these awful gifts are we are in receiving them with a faux smile and gratitude. We're encouraging folks this year to give something with a little more pizazz – flavor if you will. A gift that both an amateur and novice home cook would love to receive. And if you're lucky, you'll be invited over for dinner and get to enjoy the gift as well!
You'll find exactly that in the myriad of gift sets offered by Lafayette Spices. We offer 13 incredible spice sets for any food lover in your life. They range from the light and fruity to the bold and powerful, and everything in between. Between their relatively low cost, attractive cases, and unique exotic flavors, they rank pretty darn high in the 'interesting gift' category!
One of our absolute favorites is the World Traveler Box. This stunning gift set contains four incredible salts sourced from all over the world. These finishing salts would be perfect for the cook that's seen it all. These delicious salts can be used to season worldly dishes from Beef Bourguignon to Kebabs to Pickled Fish! The World Traveler Box will make you feel right at home in almost any country! The kit contains Blue Persian Salt – a rare and fabulous salt originally from the Middle East; Pink Himalayan Salt – originating from the Kashmir region of India; Fleur de Del – originally known as the caviar of salts, from Guerade France; and lastly Scandinavian Salt – and ancient blend of salt and spices dating back to the ages of the Vikings.
Another one of our favorite combos is the Meat Lovers Spice gift box. This box is the perfect combination of salts and peppercorns for meat lovers. This set is ideal for the grilling, roasting, bbq lover in your life. The set contains Espelette Salt – a sweet and smoky finishing salt perfect for chicken; Tellicherry Smoked Peppercorns – smoky, fruity, and robust, perfect for steaks; Beechwood Smoked Salt – with 100% natural smoky, woodsy flavor; Kampot Red Peppercorns – Fruity and floral, wonderful with pork; and Wild Tailed Peppercorns – earthy and woodsy, perfect for lamb and beef.
If meat isn't your thing, don't you worry! We have a Seafood Lovers salt box that will be right up your alley. Whether you're new to seafood cookery or you're a seasoned pro (see what we did there?) this combo kit is really going to knock your socks off. The Seafood Lovers salt box contains 5 world class salts, each ideal for seasoning a different type of seafood. Inside you'll find: Beechwood Smoked Salt – great for grilled fish; Fleur de Sel – perfect as a finishing salt for crudo; Scandinavian Salt – ideal for smoked salmon; Lemon Pyramid Salt – wonderful on scallops; and Celery Salt – fantastic on shrimp.
And don't you worry veggie lovers, we haven't forgotten about you! If you're looking to gift that vegetarian or vegan in your life, we've got exactly what they're looking for. The Veggie Lovers box contains Smoked Sweet Pepper Pyramid Salt – wonderful on roasted carrots; Herbes de Provence Salt – excellent on seared tofu; Lemon Pyramid Salt – a miracle on a shaved fennel salad; Crazy Salt – perfect for roasted squash; and Celery Salt – really fantastic on roasted broccoli and cauliflower.
 This is only four kits! There are 9 more! We guarantee there's someone in your life that loves food that could benefit from one of these seriously satisfying gifts. Don't give another itchy sweater this year – give the gift that keeps on giving. The gift of flavor!