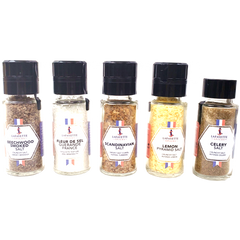 It's not every day you get to utilize exquisite world class spices on your home dishes. Usually, those are reserved for top chefs at high-end restaurants. Not anymore! Now you at home can cook with flair and fancy with our Seafood Lovers Salt Box. It's a seriously good deal for serious lovers of seafood. In all the best restaurants, chefs are utilizing a myriad of exotic spices to create their sea based masterpieces, why shouldn't you have the same opportunity?! With the Seafood Lovers Salt Box, now you do. The kit comes with 4 incredible salts – all with the power to take your seafood from dull and boring to absolutely knockout, every single time. The salts included are Beechwood Smoked Salt, Fleur de Sel, Scandinavian Salt, Lemon Pyramid Salt, and Celery Salt. All intense and flavorful in their own right, but make a huge punch when combined with fresh seafood.
The Beechwood Smoked Salt has an intense smoky flavor that's going to kick your dishes up a few notches, guaranteed! You'll be amazed at how it transforms an average dish into something really extraordinary. The salt is harvested in the Guerande region of France and finished with a 10 day beechwood smoking process. The true beauty of this salt is in its versatility. Everyone knows that smoky grilled seafood is some of the most delicious stuff on the planet! Now you can have the same results without the arduous task of grilling this delicate protein. Consider a little bit of the Smoked Beechwood Salt on crudo or raw fish preparations. The two make an incredible combination - delicate flavors of raw fish and intense smoky salt crystals are a match made in heaven!
Fleur de Sel is a rare sea salt – that can only be harvested from the coasts of France. Like certain cheeses and wines, it must be from a precise location and meet an exacting set of requirements to be considered Fleur de Sel. It forms naturally only under certain weather conditions, and it must be skimmed off the surface by hand – using special sieves. Fleur de Sel is first and foremost, salty – but it also contains a host of other nuances that make it so special. It has a fairly high moisture content (not totally dry) and retains some of those mineral sea brine flavors. We think it really shines with sprinkled over a very fresh fish crudo or smoky grilled shrimp.
The Scandinavian Salt is an infusion of intense spices into authentic smoked Cyprus sea salt. The infusion contains spices like cumin, coriander, pepper, turmeric, nutmeg, cinnamon, ginger, clove, and onion. To say this salt is a flavor bomb is a complete understatement! The smoke and spices pair so well with many ingredients. We would recommend doing as the Vikings did, and using the salt on rich roasted meats and grilled or smoked fish. The Viking Salt is just aching to be used in the winter time! The salt would make an incredible finishing touch to a whole roasted or grilled fish. Imagine the smoky seafood aromas mingling with the rich exotic spices of the salt. What a combination!
Lemon Pyramid Salt is a delicious, crunchy, gourmet salt that's going to add a tantalizing citrusy burst to your next seafood creation. This fantastic pyramid salt is covered in an intense lemony coating – and it's strong! A little goes a long way. It's particularly wonderful on seafood applications. Try it sprinkled over a piece of pan roasted salmon, halibut, or cod. It would make an incredible finishing salt for mussels or scallops. We think one of the best applications is raw seafood preparation. The intense lemony pop would be remarkable on a shrimp or scallop ceviche. Or perhaps a sprinkling over a slice of rare seared tuna. Divine!
Finally, our very own Celery Salt. The product itself is a luxurious blend of whole celery seeds and fine sea salt. Some of our favorite preparations involves the simple combination of celery salt and seafood. From oysters and lobster to shrimp and cod, a dash of celery salt take an otherwise ordinary spice and make it something absolutely extraordinary! Raw seafood would also be an incredible pairing to our Celery Salt. Imagine slices of fresh fluke or tuna with just a crack of peppery celery salt over the top. Or perhaps mixed into a bracing and slightly spicy ceviche? Whether the fish is completely raw, or cooked through, we think Lafayette Spices is going to really "bring home the bacon" when it comes to seasoning your seafood. While it may appear to be a rather ordinary spice, it has stunningly extraordinary results when paired with seafood.
At the end of the day, you can do whatever you want with these salts– but we're urging you to give it a try with your favorite seafood. These salts in particular have the kind of oomph you expect from Lafayette Spices, but they're delicate enough to pair with the lightest of seafood ingredients. It's not hard to imagine your friends asking "What did you put it this? It's so delicious!" You can keep it a secret if you want, but you really should share it with the world… Happy salting!