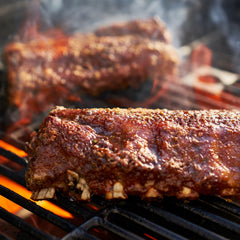 It's grilling season baby! The weather's finally turned a corner and the days are getting warmer and longer. It's time to dust off that rusty grill and put it to good use! But wait a second… what if you're out of propane or charcoal? What if it's pouring cats and dogs outside? What if you don't have a grill at all?? What if you're still craving the intense undertones of smoke that a good grilling provides? Have no fear, Lafayette Spices is here! We have a plethora of smoked salts and spices that when added to your food give you that delicious mouthwatering smoky flavor you crave without all the hassle of lighting up a grill. We offer Smoky Long Peppercorns, Tellicherry Smoked Peppercorns, Beechwood Smoked Salt, and Smoked Sweet Pepper Pyramid Salt. Each seasoning has its own distinct flavor personality and range of uses.  
Our Tellicherry Smoked Peppercorns hail from India – where all Tellicherry peppers come from. Their extra-large berry size are due to them being left on the vine to ripen longer – just before they turn red. This technique maximizes the rich fruity notes in the pepper berries. As they dry, the peppercorns turn black and solidify the rich notes of cocoa, coffee, and dried fruit. You can even pick out citrusy notes of lime, orange, and yuzu. What an incredible spice! The smokiness of these peppers would be magical paired with fresh summer tomatoes and peppers, alongside some grilled bread and a handful or torn basil. A course grind used in conjunction with one of our beautiful sea salts would make the perfect seasoning for a thick cut rib eye or pork chop.
The Smoky Long Peppercorn is one of those spices that you try once, and reach for again and again. It's addictingly piquant and has a tantalizing smokiness that will have you putting it on everything. While you might initially think that a smoked peppercorn is limiting in its versatility, it's actually quite the opposite. The depth and complexity of this particular peppercorn is wide, and includes notes of dried fruit, sweet cinnamon and clove, as well as earthy umami nuances. The smokiness itself is not over pronounced and instead of adding an intense bonfire flavor to your creations – adds instead a lovely implication of having been grilled over a wood fire. We think this exquisite pepper would be wonderful on braised lamb shanks with mole, or for a lighter preparation cracked over a salad of shaved summer squash with lemon and nice olive oil. It would make an incredible addition to grilled pineapple with salted caramel, or even a rich coffee chocolate cake.
Beechwood Smoked Salt is harvested in the Guerande region of France, a city on the western coast of the country. This coarse Guerande salt is finished with a 10 day beechwood smoking process. Beechwood makes an excellent smoking wood, though it's more typically known as a firewood than a food smoke wood. Beech is a hardwood, which means that it doesn't produce large levels of thick smoke that come from softer woods like pine or fir. The elongated smoking process ensures that the flavor not only adheres to the outside of each salt crystal, but also penetrates deep inside for an intense, smoky finish. You may immediately think of putting it on smoked or grilled foods – which is a great place for it! But where this salt really shines is on foods that don't already have those smoky/grilled characteristics. Think for instance about oven roasted vegetables – a little sprinkle of Beechwood Smoked Salt, and suddenly it's like they were roasted over an open fire! Or perhaps a few crystals on a rich chocolate pudding. The smoky salt would play beautifully with the sweet cocoa notes of the pudding.
Finally, the Sweet Pepper Pyramid Salt has to be one of our absolute favorites. It's a smoky sweet pepper flavor bomb with a tantalizing crunch that will keep you coming back for more. The base of this beautiful salt is of course our famed pyramid salt. A true Mediterranean delight, it hails from Cyprus Greece. The unique pyramid shape of the Pyramid Salt is created through the process of solar evaporation of sea water where the water is channeled into a chain of shallow ponds or lagoons and then into large pans where the water is gradually heated, forming the pyramid shapes of the salt. After harvesting these stunning crystals, the salt is coated in a powerful seasoning of smoked sweet peppers. The coating fuses to the crystals and is absorbed into their crunchy flakes. The flavor is reminiscent of freshly grilled sweet peppers – juicy and warm, with smoky undertones and notes of fruity pepper and summer ripeness. Smoked Sweet Pepper Salt would go perfectly with roasted lamb, beef, or venison. A little lighter option (but just as delicious) would be roasted chicken or grilled pork chops. Moving towards the seafood category, these flavorful flakes would be incredible on a piece of roasted salmon or cod – or even sprinkled over freshly steamed mussels.
So next time you're thinking about adding a little smoke to your dinner and don't feel like kicking up the grill, reach for one of your Lafayette Spices! It'll provide all the smoke you need, without the fire!