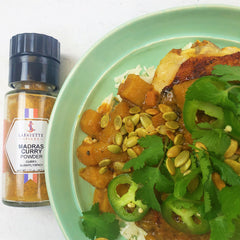 Spring is coming! Life is starting to speed up again after a long slow winter, and those weeknights are going to get crazy and busy in no time. Madras Curry is a complex spice that when used simply in the kitchen, can help you create a beautiful and delicious meal in no time. The Madras Curry is an intense amalgam of coriander, turmeric, fennel, salt, cumin, fenugreek, caraway, and chili. A little salt is added to really make it all pop and balance out the intensity of the heat. All of these spices are blended together with great care and skill – combining just the right ratio of each to create something truly magical. The curry is bold and potent, with just a small amount being able to carry an entire dish from start to finish. Because of its very strong flavor profile – it's best used to season items prior to cooking, rather than used as a finishing element.
The mixture is complex, mesmerizing, and delicious. Curries – as a stewed dish, have been made in India for centuries. But the potent spice blend that we've come to know as Curry Powder has a much younger origin. The mixture is a commercially prepared mixture of spices first marketed in the west in the 18th Century. The blends were exported to Britain, by Indian merchants. It was a mixture similar to garam masala. 
Curry Powder itself actually has a very interesting and even controversial history. Contrary to popular belief, curry powder is not a staple ingredient in the Indian kitchen. This exotic spice was first invented for the British in the 19th century and while not as hot as some Indian spice blends, Madras Curry is considerably hotter than most western-style curry blends. The confusion likely stems from a popular Indian dish known as "curry", which is made up of a spiced sauce alongside vegetables or meat, but almost never contains curry powder itself.
Let's take a closer look at some applications for this wonderful spice blend. It couldn't be easier to use, and instantly applies layers of complex flavor. We used the Madras Curry to make a simple but so so delicious curried chicken preparation. Skin on chicken legs were seasoned with sea salt and Madras Curry, then sautéed. A vegetable curry sauce was added and the whole mix was used to top some fragrant basmati rice. The entire concoction was topped with some fresh jalapeno, cilantro, and toasted pumpkin seeds. It all came together in about 15 minutes and was filling, beautiful, and exotic tasting!
While the history of curry powder may be long and complicated, one thing isn't – its uses in the kitchen! Grab some of our Madras Curry Powder today and begin exploring the flavor possibilities. You'll soon find that it's one of the easiest spice blends to introduce to all of your favorite recipes. Get cooking!