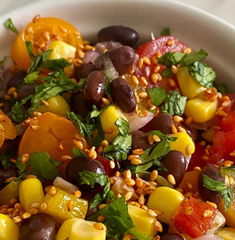 We all know spring is on the way, and that's an exciting prospect for so many reasons! Fading away are the blustery days of snow and sleet, and with them the hearty braises, soups, and chili that keeps us warm in such nasty weather. Now we have the pleasure of turning our attentions to the warmer days ahead, and the lighter salad courses that pair with them. That's right, this post is all about SALADS! Specifically, the salads that come with spring and why a topping of our Toasted Sesame Seeds will make them one of a kind dishes that your friends and family will adore.
Our sesame seeds are sourced directly from our producer in Japan, and have undergone an extensive seasoning process, to render them perfectly crispy, crunchy, and delicious. An intensely flavorful sauce, different for each seed type, is used to coat the seeds. The seeds are then dried/toasted at a low temperature to fuse the sauce to the seeds. That process is repeated up to 5 times until the seeds are at an optimum level or crispy flavor packed goodness. Four incredible flavors are available: Yuzu, Tex Mex, Curry, and Wasabi.
The yuzu is a delicious citrus fruit that hails from central China and Tibet and was then introduced to Japan and South Korea – where it's still cultivated today. It grows very slowly, generally requiring 10 years to fruit. The flavor is decidedly citrus based, with notes of lemon, lime, orange, and grapefruit. These seeds would be transcendent when sprinkled on a asparagus salad with a little shaved parmesan, preserved lemon, and toasted breadcrumb.
The Tex Mex seeds are seasoned with chili, cumin, garlic, and onion to give them an intense south of the border kick. While the name would imply that it they need to be used for a Latin-esque application, that couldn't be farther from the truth. These spicy seeds are fantastic on avocado toasts, ripe tomato salads, and tex mex style corn salads. Imagine a hearty taco salad with a Tex Mex Toasted Sesame Seed Topper – divine!
Curry Spice is traditionally an Indian ingredient, but these seeds can be used for so much more. The spice is actually a blend of several spices, and typically includes cumin, turmeric, garlic, and ginger. These bright yellow and flavorful seeds would be perfect for topping a curried chicken or shrimp salad. This would be just as tasty in lettuce cups as it would be on a slice of hearty wheat bread.,
And lastly, Wasabi! These seeds certainly pack a punch! They're coated in a layer of peppery wasabi that pairs perfectly with just about any cuisine. Wasabi is harvested from the root of a Japanese horseradish in the family Brassica. The seeds are pungent and flavorful, but don't have the lingering burn effects that accompany traditional wasabi. We would use these tasty seeds for an Asian slaw salad, perhaps with a little poached chicken or shrimp. Maybe some crispy noodles, sesame oil, and ginger lemongrass dressing. What a combo!
This Spring, add flavor, crunch, and excitement to your salads with Lafayette Spices Toasted Sesame Seeds. A flavor trip (around the world) every time!