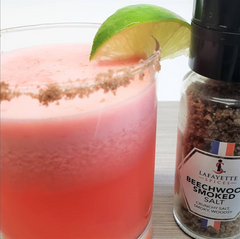 Everyone knows that spices add great depth of flavor to the foods we eat, that's a no brainer. But what about the things we drink? For centuries, aromatics have been added to beverages to make them more complex and delicious. When it comes to cocktail hour, don't make the mistake of pouring another boring beverage. Spice it up with seasonings from Lafayette Spices! Today we're looking at a few of our favorite spice and drink combos. Let's dive in!
First up, Crazy Salt! An absolute fan favorite and a perfect garnish for a plethora of beverages. The salt base itself is from Guerande France, a city on the western coast of the country – known for its salt marches. The salt is then seasoned with six (yes you read that right) powerful spices to give it that ultimate addicting flavor. First, crushed pink and black peppercorns are added. To that already potent combo, four more spices are added: Thyme, Chili, Cumin, and Coriander. These powerful spices combine to create a blend that is not only super flavorful, but complex, satisfying, and delicious! We recommend applying it to a savory beverage like a bloody mary, gin martini, margarita, or even the rim of a beer can like Corona or Tecate. This spicy salt will make every sip a flavor packed party in your mouth!
Next, another favorite of ours, but a little more unusual – the Sichuan Peppercorn. Sichuan Peppercorns have been used in China for centuries for both culinary and medicinal purposes. As an herbal remedy, it's prescribed for various ailments from abdominal pain to toothache. Bright herbal citrus notes like lemon, lime, yuzu, and grapefruit. Instead of the typical spicy burn, your tongue is treated to a range of tingling and numbing sensations. The peppercorns will instantly increase saliva production too. It's really quite pleasant and enjoyable. We'd crush this delightful spice into a gin or vodka cocktail to allow its flavor to really shine. A fancy gin and tonic or perhaps a buzzy cosmopolitan.
Our Timut Peppercorn has a similar flavor profile, with maybe a slightly more intense citrusy note. While technically a peppercorn it doesn't have any of the typical peppercorn characteristics. Instead, it screams of juicy citrus fruit flavors! Notes of grapefruit, lime, and yuzu with an exciting electric zing make this one show stopping spice. Imagine the buzz of a Sechuan Peppercorn with the vibrant freshness of a juicy citrus fruit. We think it would be pretty spectacular muddled into a Paloma cocktail, or perhaps even a more traditional margarita.
And finally, let's not forget the Celery Salt. The celery salt blend that we carry at Lafayette Spices is two parts fine sea salt to one part celery seed. While the mixture is classically used for bloody marys and Chicago style hot dogs – the uses for our gourmet celery salt are numerous! The salt can be used for just about any savory cocktail you can dream up. Bloody Mary's may top the list, but try it on the rim of a smoked gin martini or gimlet. Or even along the rim of a spicy margarita. You'll be shocked how well the celery flavor works with the cocktail.
Before you grab that next olive or cherry to garnish your drink – think about how much one of our Lafayette Spices could benefit your beverage. They add huge punches of flavor with minimal effort. Take that 5pm happy hour from zero to hero! Cheers!