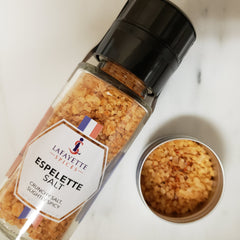 When it comes to peppers, there are few to none out there that have the kind of hallowed recognition that the Piment d E'spelette (or Espelette Pepper) carries. This piquant little pepper is the star of our Espelette Salt a new offering from the flavor experts at Lafayette Spices! It's bright, bold and beautiful and will quickly become your new go-to for seasoning your favorite dishes.
The Espelette Pepper has a storied past. It's cultivated in the French commune of Espelette - in the Pyrénées-Atlantiques, a department in the southwest corner of France. It takes its name from the Pyrenees Mountains and the Atlantic Ocean. It covers the French Basque country and the Béarn. In 2000 the pepper was classified as an AOC product – which is a special French certification typically reserved for very important wines, cheeses, and butters. It is based on the concept of terroir and a form of geographic protectionism. 
The chili pepper itself originated in Central and South America and was later introduced to France in the 16th century. First used medicinally, it eventually became popular as a condiment and for the conservation of meats. Today, it has become a staple of Basque cuisine – so much so that it has replaced black pepper in typical cooking. It's a key ingredient in Piperade, a typical Basque dish of stewed onion, green pepper, and tomatoes – flavored with red Espelette Pepper.
The peppers are harvested in late summer. By September, strings of the peppers are hung on balconies and house walls throughout the villages to dry out. An annual pepper festival is held every year on the last weekend of October and attracts over 20,000 tourists!
The peppers themselves are sweet, slightly smoky, and only obtain a maximum of about 4,000 on the Scoville scale – considering them to be pretty mild. The most impressive part of these tasty little peppers is perhaps their extreme versatility. When blended with coarse Spanish salt – it becomes a recipe for greatness! The Espelette Pepper Salt is perfection on both meat and seafood – and totally steps up the game for any veggies it touches. A sprinkle over the top of sliced pork loin would be unforgettable. Or perhaps generous pinch over a whole grilled sea bass – divine! It would also make the perfect piquant topper to roasted butternut squash. The possibilities are truly endless. It's certain that the new Espelette Salt is going to get loads of use in your winter cooking. Enjoy!