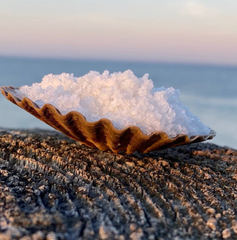 Summer is in full swing now. The grill has been fired up, the pool is open, and the watermelon has been sliced. We're summering! But just because it's summer doesn't mean flavor gears here at Lafayette Spices stop turning. We don't take a summer break! We're here all season long working on delicious spice creations for your warm weather enjoyment. We know, nice of us right? And take it from us, there's not a better time to enjoy a well seasoned dish. It just makes summer all that much better! Admittedly, we do have a couple seasonings that we particularly enjoy in the hot weather. They just seem to pair well with all the beautiful summer produce. Espellette Salt, Fleur de Sel, and Beechwood Smoked Salt are our summer seasoning picks!
Let's begin with perhaps the most unusual of these three, the Espelette Pepper Salt. The espelette pepper is a very special one – perhaps one of the most revered peppers in all the western hemisphere. The peppers themselves are sweet, slightly smoky, and only obtain a maximum of about 4,000 on the Scoville scale – considering them to be pretty mild. The most impressive part of these tasty little peppers is perhaps their extreme versatility. When blended with coarse Spanish salt – it becomes a recipe for greatness. One of our favorite applications is an icy cold chelada, a Mexican beer cocktail that's refreshing and so so easy to make. The irresistible drink pairs Mexican lager with lime juice and an Espelette Salt rim. The Espellette would also work wonders on grilled Mexican street corn or a simple preparation of sliced raw fish – perhaps even some oysters!
Fleur de Sel is up next. Like certain cheeses and wines, it must be from a precise location and meet an exacting set of requirements to be considered Fleur de Sel. Because of the labor intense processes involved with harvesting Fleur de Sel, it is considerably more rare and therefore more expensive than average table and sea salts. It forms naturally only under certain weather conditions, and it must be skimmed off the surface by hand – using special sieves. Ordinary sea salt is made by evaporating sea water and then collecting the remaining salt. While this beautiful salt is good on just about anything, it's particularly tasty on fresh spring ingredients. Think about a sprinkling over some crisp spicy radishes with a good room temperature butter for schmearing. Or a bundle of just grilled asparagus, dribbling with juice – the perfect opportunity for a sprinkle of fleur de sel. Juicy spring chicken, with crispy skin, rubbed with spices, would be a perfect place for this luxurious salt. Or how about a bowl of sweet peas, just shucked, with a pat of butter and torn mint. Does it get any better than that?
And finally, Beechwood Smoked Salt! Our Beechwood Smoked Salt is really something special. This is Pure French Guerande Sea Salt that has been gently smoked over beechwood for 10 days. While most other smoked salts are artificially sprayed with flavor – this Beechwood Smoked Salt remains totally natural, and incredibly intense. Because of the elongated processing technique, this salt has superior flavor and texture characteristics. Because of its intense smoky aroma and flavor, this salt is ideal for items that you're not able to apply elongated amount of hot smoke to. Think delicately grilled scallops, oysters, and other shellfish. A little sprinkling on grilled corn and other summer veggies would also be an excellent way to utilize this smoky powerhouse salt.
While the hot summer heat makes it a bear to cook, it's a wonderful time to eat! Indulge in raw or quick cooked plates that don't keep make you a slave to the stove! Now is the time to really take advantage of fresh summer salads, raw seafood, and grilling. Be sure to season those ingredients with the very best and you've got yourself a recipe for a delicious summer!