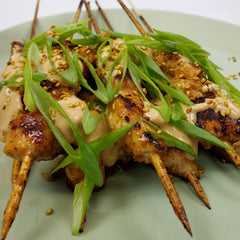 In addition to providing excellent nutrition and sustenance, they're easy to use, have a great shelf life, and are darn tasty! Our very own Toasted Curry Sesame Seeds are a particular favorite. Produced in Japan, they undergo a labor intensive process of saucing and toasting over and over again until they reach peak crispiness and flavor intensity. Curry, as you may know is not a spice itself, but rather a blend of spices that can differ from cook to cook and restaurant to restaurant. The curry seeds in particular are coated with a heady blend of cumin, turmeric, garlic, and ginger. The combination is intense and aromatic. When added to food and dishes, they add a massive punch of flavor.
One easy way to really utilize the exceptional crunch and delicious flavor of the curried sesame seeds is by crusting them on a slab of tofu. Sear just like a piece of meat, and you have a flavor packed "veggie steak" ready for topping a hearty salad or as a sandwich filler. We chose to take a piece of extra firm tofu, season it well with sea salt and Toasted Curry Sesame Seeds and seared it hard until it was crispy. The warm crispy tofu was used to top a beautiful salad with tomatoes radishes, and other summer veggies. The resulting dish was filling and comforting but not too heavy. The sesame crusted tofu could have easily been served alongside some roasted veggies, rice, or just a tasty sauce like pesto. Talk about an easy weeknight meal!
Given the intensity of the flavor profile, you might think that it would be difficult to pair with foods, but that couldn't be further from the truth. If you want a quick and easy application, it makes a fantastic topper for salads and sandwiches. Fold some into your next batch of chicken salad and you've got a seriously show stopping sandwich! On the flipside, you could top dishes of braised chicken or lamb, whole roasted fish, or even roasted carrots. All would be incredible with the added pops of curry flavor. For a super easy addition, try adding to a store bought hummus! Every bite of carrot and broccoli will zing with authentic curry flavor.
The possibilities are endless with this one, and whether it's a simple mid-day snack or a complex Saturday night meal, you can rest assured that Toasted Curry Sesame Seeds are going to make your latest creating something exotic and memorable. You don't always have to get in your car to take a trip! Now you can do it by simply opening a jar of our toasted sesame seeds. The world awaits – let's go on a flavor journey!