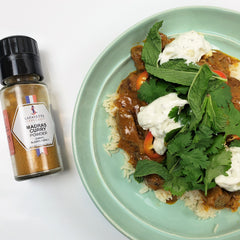 As you may or may not know, Madras Curry is one of our absolute favorite spice blends we carry here at Lafayette Spices. It's aromatic, intense, complex, and instantly transports us to the India. This intense blend of coriander, turmeric, fennel, salt, cumin, fenugreek, caraway, and chili is mesmerizing and delicious.
Curry Powder itself actually has a very interesting and even controversial history. Contrary to popular belief, curry powder is not a staple ingredient in the Indian kitchen. This exotic spice was first invented for the British in the 19th century and while not as hot as some Indian spice blends, Madras Curry is considerably hotter than most western-style curry blends. The confusion likely stems from a popular Indian dish known as "curry", which is made up of a spiced sauce alongside vegetables or meat, but almost never contains curry powder itself.
Recently, we prepared a dish of curried beef short rib over basmati rice. The preparation couldn't be easier but the results are super delicious and comforting. Season the cubed short rib with sea salt and the Madras Curry Powder. Sear until well browned. Add you favorite pre-made curry sauce, or if you really have the time and energy you can make your own! Spoon the whole mixture over some fragrant basmati rice and top with fresh chili, herbs, and yogurt raita sauce. And that my friends is a party in your mouth!
The blend itself is an intense combination of 5 spices – each procured and treated with the utmost care before becoming part of the blend. The mixture contains coriander, turmeric, fennel, cumin, fenugreek, caraway, and chili. A little salt is added to really make it all pop and balance out the intensity of the heat. All of these spices are blended together with great care and skill – combining just the right ratio of each to create something truly magical. The curry is bold and potent, with just a small amount being able to carry an entire dish from start to finish. Because of its very strong flavor profile – it's best used to season items prior to cooking, rather than used as a finishing element
But what to create that will really highlight this magnificent spice blend and the fall ingredients available right now? Let's take a look! A curried carrot soup with swirls of crème fraiche, dots of intense olive oil, and crispy toasted pumpkin seeds would be a great place to start. The carrots should be seasoned liberally with salt and Madras Curry prior to being added to the pot. Start by caramelizing them in a little butter – allowing the carrots to brown and the spices to toast and become aromatic. All of that color is added flavor! Then add a little white wine, reduce, and finish with a few glugs of vegetable stock to cover. Let the whole thing simmer until tender, then blend until smooth. Top with all of the tasty toppings your heart desires! Fall in a bowl.
Madras Curry is a simple and revered ingredient that's going to turn some of your boring dinners into real works of culinary art. Don't take it for granted and enjoy it in good health. Bon appetite!