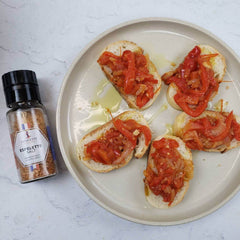 When it comes to peppers, there are few to none out there that have the kind of hallowed recognition that the Piment d E'spelette (or Espelette Pepper) carries.

This piquant little pepper is the star of our Espelette Salt a new offering from the flavor experts at Lafayette Spices! It's bright, bold and beautiful and will quickly become your new go-to for seasoning your favorite dishes.
The Espelette Pepper has a storied past. It's cultivated in the French commune of Espelette - in the Pyrénées-Atlantiques, a department in the southwest corner of France.

It takes its name from the Pyrenees Mountains and the Atlantic Ocean. It covers the French Basque country and the Béarn. In 2000 the pepper was classified as an AOC product – which is a special French certification typically reserved for very important wines, cheeses, and butters. It is based on the concept of terroir and a form of geographic protectionism.
The peppers themselves are sweet, slightly smoky, and only obtain a maximum of about 4,000 on the Scoville scale – considering them to be pretty mild.

The most impressive part of these tasty little peppers is perhaps their extreme versatility. When blended with coarse Spanish salt – it becomes a recipe for greatness! It's really the perfect accompaniment to fall cooking.
Piperade, a spicy tomato-pepper sauce from the Basque region of France can be used as a stewing ingredient or a garnish to a finished dish.

There are a number of variations when it comes to making piperade recipes and this is just one. The colors of the Basque flag—red, white, and green—are represented in piperade.

This recipe has both bell peppers and Anaheim peppers and uses a small amount of granulated sugar mellow out the sharp tang of the tomatoes and peppers.
The recipe couldn't be easier. Heat a little olive oil in a large skillet over medium heat. In the pan, saute onions, peppers, garlic, Espelette Pepper Salt, paprika, garlic, and sugar.

Stir occasionally until veggies are cooked through, about 10 minutes. Add tomatoes and simmer the mixture, uncovered, for 15 minutes until most of the liquid has evaporated and the sauce has thickened. Taste the mixture and add more salt if needed.
Make this recipe ahead of time in preparation for any dishes you want to make during the week, or if you're having a special gathering with guests. Get a jump start on making it by chopping and seeding the peppers, chopping the onion, and crushing and chopping the garlic.

This can be done a day or so before and put in separate zip-top bags or airtight containers and placed in the refrigerator. This piperade sauce is great with lamb, pork, or a mild fish such as tuna or cod.

It can be served as an appetizer with crackers and in the Basque region, you will typically find it served with eggs.  A common variation to piperade is an addition of ham to the sauce. Delicious, flavorful, and fairly quick to prepare, this is a sauce you want to keep in your recipe repertoire.
When it comes to working with this treasured seasoning, try to think out of the box. The peppers come from France, and the salt is from Spain - the salt finds a welcome home in just about any preparation you can dream up.

That is to say, push the boundaries a bit.

This European sourced product can just as easily be used in preparations based in Asian, African, and South American cooking. Be creative, and let your imagination run wild!