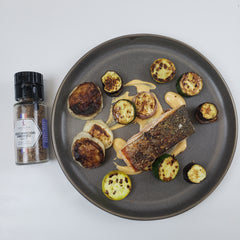 Seafood is one of those things that just always seems to taste better in the summer. Cold oysters on half shell, a succulent lobster roll dripping with warm salted butter (or mayo if that's your thang), grilled fish with that touch of smokiness that perfectly tops off a warm summer day. It's easy to see why these things are so delicious in the hotter months – they're easy to prepare, usually can be made outside on the grill, and make us think of the place they came from (the ocean) which in turn cools us down. Well, this recipe is no different. It utilizes a nice slab of salmon, but could just as easily be anything fresh from your local seafood market – cod, striped bass, fluke, halibut, and bluefish would all do the trick! The most important thing is that it's uber fresh! And then second – it's always nice to cook with something local. Although not required. We chose to pair this uber fresh fish with some local farmstand veggies. This is another one of those "recipes" where do don't need to use exactly what we've listed, simply find what's fresh and growing by you.
The most important part of the recipe though is the use of our very own Beechwood Smoked Salt. Our Beechwood Smoked Salt is really something special. This is Pure French Guerande Sea Salt that has been gently smoked over beechwood for 10 days. While most other smoked salts are artificially sprayed with flavor – this Beechwood Smoked Salt remains totally natural, and incredibly intense. Because of the elongated processing technique, this salt has superior flavor and texture characteristics. Because of its intense smoky aroma and flavor, this salt is ideal for items that you're not able to apply elongated amount of hot smoke to. Think delicately grilled scallops, oysters, and other shellfish. A little sprinkling on grilled corn and other summer veggies would also be an excellent way to utilize this smoky powerhouse salt.
A recent application that really wowed us was when the salt was applied to seafood. Everyone knows that smoky grilled seafood is some of the most delicious stuff on the planet! Now you can have the same results without the arduous task of grilling this delicate protein. For the dish, we employed a beautifully fresh slice of salmon. The fish was seasoned with the Beechwood Smoked Salt and sautéed very gently in a pan. Because the salt was added before the fish was cooked, the flavors soaked into the fish and really permeated it with a wonderful smoky flavor. The grilled veggies are an easy addition – if you choose veggies that can be served raw, it's a simple matter of slicing and seasoning them. Think heirloom tomatoes and very fresh summer squash. If it's something that requires a little more cooking, just remember, simple is better. Just a splash of olive oil, and a sprinkle of salt, then hit it on the grill! Finish with a little lemon juice or nice champagne vinegar.
We chose to sauce this dish with a couple pools of chipotle mayo – the richness and spicy tang pairing well with the eggplant. Many other sauces would work just fine though – anything from a fresh basil pesto, to a pop of chimichurri, to a spicy and creamy horseradish sauce. The sky is the limit when you're working with fresh ingredients, and amazing combinations are boundless.
Really nice fresh salmon is a luxury, and easy to enjoy. But it can be made just a little more delightful with the addition of our Beechwood Smoked Salt. It's crunchy smoky crystals will take your next salmon creation from zero to ten in a hurry! Bon appetite!