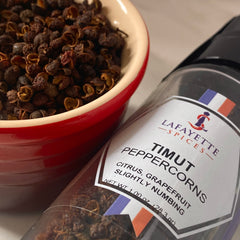 Have you ever had a peppercorn that tasted… fruity?? Not something you typically think of when you imagine the flavor of a peppercorn, which would usually be described as earthy, smoky, and spicy. There are a few very rare peppercorns on the earth that don't have those usual attributes. And the extraordinary Timut Peppercorn is one of them. Lucky for you, we were able to get our hands on them. You're not going to believe the flavor of these babies!
The Timut Peppercorn is perhaps one of the most unusual ingredients you'll ever encounter. While technically a peppercorn it doesn't have any of the typical peppercorn characteristics. Instead, it screams of juicy citrus fruit flavors! Notes of grapefruit, lime, and yuzu with an exciting electric zing make this one show stopping spice. Imagine the buzz of a Sechuan Peppercorn with the vibrant freshness of a juicy citrus fruit. According to Harold McGee in On Food and Cooking, the peppercorns are not simply pungent; "they produce a strange tingling, buzzing, numbing sensation that is something like the effect of carbonated drinks or of a mild electrical current (touching the terminals of a nine-volt battery to the tongue)." What a wild ride!
This miraculous peppercorn hails from Nepal, where it actually grows wild through the higher altitudes. And here's the real kicker… it's not actually from the traditional pepper family (piper nigrum). Instead, it's the dried berry from a tree in the prickly ash family. It grows wild in immense quantities through the region, and has an annual export of over 800 tons! In the Himalayas, it's used in the small local villages for chutney, tea, or grinding into masala (a local spice blend).
Because the Timut Peppercorn isn't really spicy, it allows for a wide range of uses. The citrusy spice can be used for just about anything – even pastry and cocktail applications. Imagine a crack of this over grilled halibut or freshly shucked briny oysters. Or a sprinkling over a decadent citrus tart with summer berries. It would make an incredible infusion for a gin martini or even a vodka soda. The fruity notes would pair brilliantly with pork and game like duck or venison. In short – get creative! The Timut Peppercorn has the ability to elevate so many things – it's up to you to give it a chance! Get cracking.