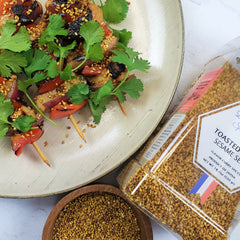 Summer is right around the corner, and that means you should only be thinking about one thing – what you're going to grill next! May we offer up for your consideration a totally easy kebab recipe that packs a serious flavor punch! This easy recipe takes about 15 minutes to put together and will be enjoyed by the entire family, picky eaters included! In addition to some fresh farmstand produce, we utilized Toasted Curry Sesame Seeds from Lafayette Spices.
Our Toasted Curry Sesame Seeds are produced in Japan, where they undergo a labor intensive process of saucing and toasting over and over again until they reach peak crispiness and flavor intensity. Curry, as you may know is not a spice itself, but rather a blend of spices that can differ from cook to cook and restaurant to restaurant. The curry seeds in particular are coated with a heady blend of cumin, turmeric, garlic, and ginger. The combination is intense and aromatic. When added to food and dishes, they add a massive punch of flavor.
The kababs couldn't be easier to put together. Simply cube some boneless skinless chicken breast. Then, allow the chicken to marinate. This is can be just about anything you have in the cabinet, but we used Worcestershire, rice wine vinegar, honey, and sesame oil. You could add a little sriracha, soy sauce, garlic, ginger, scallion… Really, the seasonings here are totally up to you. Just be bold! You don't want boring chicken do you? Allow the chicken to marinate for at least an hour, but as long as overnight. That will allow the flavors of the marinade to penetrate and really infuse the chicken.
Then, it's as simple as slicing up some veggies and skewering it all together! We used a combo of red pepper and red onion, but you could easily add whatever is available from your local farm stand. Asparagus, tomatoes, squash, whatever you can dream up! Then it's time to hit the grill. Be sure to preheat it so the kebabs don't stick. It's not a bad idea to brush them with a little oil prior to putting them on the grill.
Cook until the chicken is done, and the temperature on a thermometer reads 165 F. The veggies should have a little smoky char to them. Now it's time to dress them up! Liberally sprinkle Toasted Curry Sesame Seeds over the top along with a little torn cilantro. If you're up to the heat, you could add some slices of fresh jalapeno or a squeeze of hot sauce.
The best part about this recipe is that it's easily customizable for what you have on hand. You can get creative with the marinade and your skewer ingredients! Whatever you decided to do, don't forget the Toasted Curry Sesame Seeds! It just makes the whole dish pop. Happy grilling!