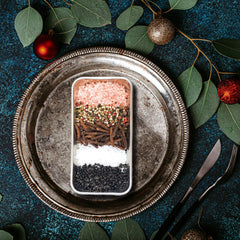 The holidays are here! We're sure you knew that. And that means hungry guests (usually in droves with their families) will be knocking down the doors to eat, drink, and be merry. All in the holiday spirit of course! The holidays are the perfect time of year to settle into some more classic preparations that utilize rich flavorful autumn-winter ingredients. Cooking styles tend to move towards heavier styles like roasting, smoking, and braising. Lafayette Spices offers so many products perfect for winter cooking techniques. But a couple in particular come to mind that will work particularly well with your festive cooking this season.
One of our absolute favorites is our Herbes de Provence. This dried herbal mix hails from the Provence region of southeast France. The Flavour Fields mix includes five herbs that are essential to cooking in winter – Savory, Marjoram, Rosemary, Thyme, and Oregano. Each is picked at its peak of flavor and slowly air dried – this process achieves a flavor and color that is second to none. The beauty of Herbes de Provence lies in its versatility. The mix works beautifully on duck, turkey, and other poultry, but can be just as impressive when crusted on root vegetables or even a meaty piece of monkfish. This Thanksgiving season, try branching out with your uses for this incredible seasoning – you'll be so happy you did!
When it comes to holiday cooking, the peppercorns you use make a difference! Our Kampot Long Red Peppercorn is perfect for the season – with warm notes of clove, cinnamon, and dried fruit. This unusual pepper comes from Cambodia - the first reference to which comes from ancient Indian textbooks of Ayurveda, where its medicinal and dietary uses are described in detail. The fruit of the pepper consists of many minuscule fruits — each about the size of a poppy seed — embedded in the surface of a flower spike that closely resembles a hazel tree catkin. This pepper is large enough to be grated by hand on a microplane, which really makes it an ideal finishing pepper. Grate it over freshly sliced venison, duck liver pate, or even slices of seared rare tuna. Fall and Kampot Long Red Peppercorns go hand in hand!
Sometimes you need to kick it up a bit. That's precisely where our Smoked Long Peppercorn comes in handy. Hailing from Guinea Ethiopa, The long pepper has been used for centuries in Mediterranean, African, Indian, and Indonesian cooking, although it has almost fallen into obscurity in the past few hundred years. The long pepper comes from a flowering vine with large catkin flowers. Within each flower are small black spikes that are the actual pepper. The taste is very similar to regular black pepper, and it is a relative of the species piper nigrum, but with a much hotter taste and an almost earthy, sweet overtone. Just like it's red cousin Kampot, it's best grated by hand and the end of the cooking process. Try scratching some over a French onion soup, or wood roasted mushrooms, or perhaps a slab of seared foie gras with blackberry preserves.
And who can imagine the holidays without wine? We have a salt for that! Our Cabernet Salt might just be the classiest of them all. This dark purple salt gets it color and flavor from true Cabernet Wine. The salt is collected from the bottom of salt ponds, evaporated down to its crystals, then soaked in Cabernet wine, and dried off. This process happens several times to insure that the flavor is intense and aromatic. Floral hints of red fruit, black pepper, and bell pepper. These are all flavors that pair wonderfully with winter dishes. Think braised beef short ribs, duck confit, and hearty soups and stews.