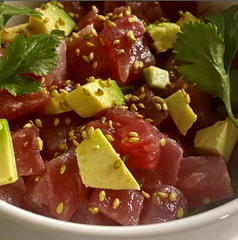 As Spring approaches  we can finally begin to turn our attention to some warmer weather creations. While the full bounty of  the season will not come to fruition for another month or two, there will be some signs of early spring coming very soon. Freshly dug root vegetables, pulled from the newly thawed ground, greenhouse veggies, and wild foraged goodies. With these new edible treasures comes a long awaited opportunity to experiment with some new seasonings. Lucky for you, Lafayette Spices is absolutely packed with flavor packed salts, peppers, spices, and seasonings to make this transition even more enjoyable.
Toasted Wasabi Sesame Seeds are one of our absolute favorites, and would be spectacular on all those bright green veggies that are soon to be emerging. Think asparagus, snap peas, English peas, ramps, and spring onions. The spicy crunchy pop as a backdrop to the spring sweetness already has our mouth watering. Our Toasted Wasabi Sesame Seeds are straight from Japan, and made with the care and quality you come to expect from a Lafayette Spices product. The seeds have undergone an extensive seasoning process, to render them perfectly crispy, crunchy, and delicious. An intensely flavorful sauce is used to coat the seeds. The seeds are then dried/toasted at a low temperature to fuse the sauce to the seeds. That process is repeated up to 5 times until the seeds are at an optimum level of crispy flavor packed goodness.
Another spring favorite is our Timut peppercorn. There isn't much heat, but boy do these babies pack a serious flavor punch. Bold citrusy flavors of grapefruit and lemon play alongside a pleasant tingling numbing sensation. We'd pair it with a ultra fresh greenhouse lettuces and a punchy citrusy vinaigrette. The Timut Peppercorn is perhaps one of the most unusual ingredients you'll ever encounter. While technically a peppercorn it doesn't have any of the typical peppercorn characteristics. Instead, it screams of juicy citrus fruit flavors! Notes of grapefruit, lime, and yuzu with an exciting electric zing make this one show stopping spice. Imagine the buzz of a Sechuan Peppercorn with the vibrant freshness of a juicy citrus fruit. According to Harold McGee in On Food and Cooking, the peppercorns are not simply pungent; "they produce a strange tingling, buzzing, numbing sensation that is something like the effect of carbonated drinks or of a mild electrical current (touching the terminals of a nine-volt battery to the tongue)." What a wild ride!
Last up, and perhaps our spring time favorite, the Pink Himalayan Salt! This stunning pink salt is as pretty as a freshly popped spring flower – and delicious to boot! The increased minerality plays wonderfully with all the new veggies hitting the market. We'd recommend seasoning a nice slab of halibut and pairing it with some of the fresh vegetable offerings you find at the market. Pair it all with a rich buttery sauce and you've got yourself a plate of heaven. Really pull it all together with a glass of oaky chardonnay. Our 100% pure Pink Himalayan Salt originates from the Kashmir region of India and the Punjab region of Pakistan. Its iron rich content lends this salt its pink color by means of oxidation. This high mineral content of this salt has made it a go-to for the healthy conscious. Local legend traces the discovery of the salt deposits to the army of Alexander the Great (around 300 BC) but the first records of mining are from the Janjua people in the 1200's. Chemically, Pink Himalayan Salt is similar to table salt and has been shown to contain between 96% and 99% sodium chloride. It's the mineral impurities, more specifically magnesium, calcium, and potassium content that makes the salt its stunning pink color.
Thankfully, the end is near for the days of cold, dark, wintry doldrums. Soon the sun will be shining bright, the days will begin to warm up, and we'll have spring creations on the brain. This Spring season, use it as an opportunity to create new masterpieces with some ingredients that are new to you! You'll love the way your creativity flows when you open up to trying new things.