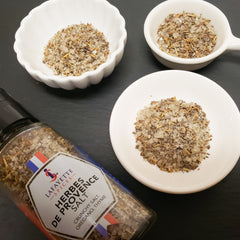 If you're looking for a standout seasoning that will not only transform your cooking, but also make your friends and family jealous of your culinary prowess, do we have the just the right thing for you! Our Herbes de Provence salt is not only exotic and intriguing, but totally user friendly and impressive! It makes a fantastic seasoning when applied to meats and seafood before cooking, but because of the addition of Guerande salt and included bottle top grinder – it can also be used as a finishing salt! Grind it over fresh salads, crudites, sliced meats, and pasta dishes. The possibilities are endless here and we can't wait to dive into them with you.
Let's start with a little background on the Herbes de Provence blend… This dried herbal mix hails from the Provence region of southeast France. The Lafayette Spices mix includes five herbs, each with its own distinct flavor profile and importance to the blend: Savory, Marjoram, Rosemary, Thyme, and Oregano. Each herb is picked at its absolute peak of flavor and slowly air dried – this process achieves a flavor and color that is second to none.
The blend itself is considered to be one of the youngest herb mixtures in France – after staples like Bouquet Garni and Fines Herbes. The term has only been around since the 70's and was popularized by Julia Child! The mixture itself can include many different iterations of herbs – and can be either fresh or dried. The blend can include thyme, marjoram, oregano, rosemary, basil, chervil, tarragon, lovage, savory, sage, bay leaf, and fennel. Some mixtures outside of France include Lavender because it was an excellent selling point to tourists who couldn't picture a Provincial herb blend without it!
And we can't forget about the salt! This intensely flavored salt is from Guerande France, a city on the western coast of the country – known for its salt marches. In these marches, salterns have been built, where workers collect up to 15,000 tons of cooking salt each year and approx. 300 tons of fleur de sel or "flower of salt" per year. The process is quite simple, tides feed the water reservoirs with sea water, where it gets trapped and begins to evaporate. That process of evaporation continues until there are only a few centimeters of sea water left. Ultimately, the salt crystalizes and produces fleur de sel and coarse salt. 
The beauty of the Herbes de Provence Salt lies in its versatility. The mix works beautifully on duck, turkey, and other poultry, but can be just as impressive when crusted on root vegetables or even a meaty piece of monkfish. Because of the salt and the addition of grinder top to the traditional herb mixture, this intense blend can be used as a finishing spice too. We think it would be particularly delectable when ground over fresh vegetable crudité, or even a hearty winter kale salad. It would be the perfect garnish to slices of burratta or mozzarella. Think outside the box with this one! Whether you cook with it or use it as a finishing spice, your bound to create lasting culinary memories!