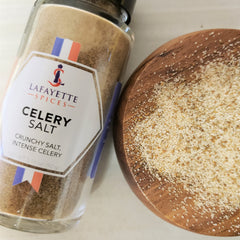 Celery Salt is typically overlooked as an outdated retro ingredient. Its uses confined to old Betty Crocker cookbooks and the occasional Bloody Mary. But we're here to change all that. Our mission: make Celery Salt cool again! It helps that Lafayette Spices carries perhaps one of the most gourmet celery salts on the market. Our salt comes in a beautiful glass jar with an included grinder top. The product itself is a luxurious blend of whole celery seeds and fine sea salt. It's a far cry from the dusty plastic shaker your mom used back in the 70's!
Let's dive a little deeper into what makes this seasoning so special. Firstly, all the ingredients come from France – so you know it has to be good! The French don't mess around with their food! Celery Seed is the spice made of the seeds of wild celery. The wild celery is more intensely flavored than conventional supermarket celery varieties. The seeds are very tiny, but they are in fact the whole dried fruits of the wild celery plant. Cool right?!
The celery salt blend that we carry at Lafayette Spices is two parts fine sea salt to one part celery seed. While the mixture is classically used for bloody marys and Chicago style hot dogs – the uses for our gourmet celery salt are numerous! It would be delicious cracked over a whole chicken or pork roast before popping it into the oven. That comforting celery flavor would come through in the final dish and really make it sing! Alternatively if you wanted to do a cold preparation – the Celery Salt would be a perfect way to season a chicken salad or cold roast beef sandwich, YUM!
Don't forget the veggies and seafood though! Our Celery Salt make the perfect finisher for crispy skin salmon and shrimp salad. Imagine an intense pop of celery on your piping hot fish and chips – what a way to spruce things up! On the veggie side, our Celery Salt would make a memorable addition to a fresh summer caprese salad, or in the colder months, a crack over a hot bowl of parsnip or butternut squash soup would be delightful!
What we're trying to say is… don't count Celery Salt out. This isn't the same ingredient you may be used to! Lafayette Spice's Celery Salt is intense, bold, and packed with gourmet potential. Try a little bit in your next dish – we think you'll find yourself reaching for it again and again. Bon appetite!