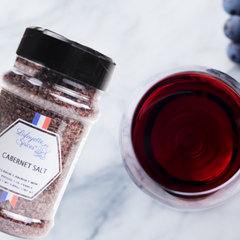 Have you been looking for a finishing salt that screams with intense flavor, has a stunning color, and an excellent texture to boot?! Look no further, than our very own Cabernet Salt! This bright purple stunner is an incredibly classy and delicious finishing salt. True French Guerande sea salt is soaked in rich cabernet wine, then dried – it's an infusion that will really knock your socks off. Loads of intense wine flavor in every crystal - little flavor bombs! The bright purple tones of this exquisite salt pair beautifully with sliced red meats, roasted vegetables, and sweet ripe summer tomatoes.
The salt used to create is harvested in the Guerande region of France, a city on the western coast of the country – known for its salt marches. In these marches, salterns have been built, where workers collect up to 15,000 tons of cooking salt each year and approx. 300 tons of fleur de sel or "flower of salt" per year. The process is quite simple, tides feed the water reservoirs with sea water, where it gets trapped and begins to evaporate. That process of evaporation continues until there are only a few centimeters of sea water left. Ultimately, the salt crystalizes and produces fleur de sel and coarse salt.
Cabernet Sauvignon is one of the world's most widely recognized red wine grape varieties. It is grown in nearly every major wine producing region. Surprisingly, the origin of this delicious grape variety was an accident! In the 17th century in southwestern France, an accidental breeding occurred between a red Cabernet Franc plant and a white Sauvignon Blanc plant – Cabernet Sauvignon was born. The plant is known for its thick durable skin and it's resistance to the elements. This luscious grape is loved worldwide for its elevated tannins (making it a good candidate for aging), full body, and medium level of acidity.
Generally speaking, this incredible finishing salt is going to pair well with foods that already pair well with Cabernet Wine. Flavors of this salt range from green pepper and tobacco to hints of cassis, dark fruit, and cherries. Pair it with red meat like steaks, burgers, beef short ribs, and grilled or roasted lamb. It also makes a fantastic pairing with umami rich foods like mushrooms (especially Portobello) and cheeses like gorgonzola, aged cheddar, and gouda. On the other end of the spectrum, this salt would pair beautifully with a rich chocolate pot de crème or even a sprinkle on a dark fruit pie.
The Cabernet Salt is a stunning, delicious, and unique seasoning that will immediately complement any chef's pantry. You'll be pleasantly surprised by its intense flavor and versatility. Bring some Cabernet Salt home today, and get cooking!