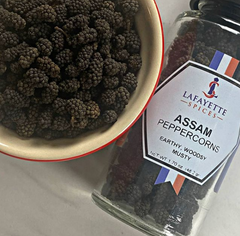 We source a lot of strange and unusual ingredients here at Lafayette Spices. We're constantly on the search for bold flavors and incredible stories. It drives everything we do! To that end, the Assam Peppercorn may be one of our most unique offerings available. They're not only incredibly interesting to look at, but they have a fantastic origin story and taste great to book. Break them out around your foodie friends and you're guaranteed to get a reaction!
These beautiful little peppercorn berries are a subspecies of long peppercorn and have a unique shape similar to a blackberry. The peppers are picked from the wild in the Brahmaputra River Valleys in North-East India – deep in the tropical forests. There are no specific Assam pepper plantations. Indeed, like many blackberries, it is a wild product. This is what makes it so charming. This raw, assertive product, which develops as it wishes according to the desires of nature, is all that we like. Assam pepper is harvested in the region of the same name in India. It grows on a climbing vine and develops in bunches. Green pepper, black pepper, white pepper, the color varies depending on when it is harvested and how it is dried. When it is picked when ripe, it is dried in the sun according to ancestral methods. It is this drying process that makes all the difference in terms of taste. The Assam pepper then develops all its aromas in the most natural way possible.
The spiciness is subtle and complex – it does take some time to develop, but when it does, it's a delightful flavor experience. Initially, the aroma is musty, earthy, and woodsy. As you taste it, the peppercorn releases spicy and refreshing notes, with a slight zingy tang. It has an ever so slight numbing quality – similar to Sichuan peppercorns, but nowhere near the strength.
Because of the earthiness, we think this peppercorn would pair best with root vegetables, mushrooms, and game meats like venison and duck. A tiny pinch of Assam Peppercorn cracked over a bowl of creamy polenta with seared mushrooms would be divine.  Alternatively, a sprinkling of this fragrant seasoning over crispy pork belly or sliced medium rare duck would be something to behold. The deep earthiness and subtle spice would work well with just about any meat really. If you wanted to do a really fancy burger – this would be a great go to for pre-grill seasoning!
And there you have it! The Assam Peppercorn is a unique and delicious seasoning that will certainly impress your most in-the-know foodie friends. Between its incredible blackberry-like appearance and rich complex flavor profile – it's guaranteed to wow the crowd. Be sure to add it to your home spice portfolio today!