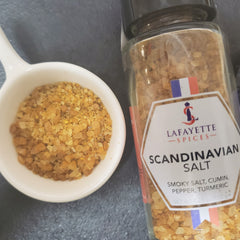 We're about to take a trip to the past… waaayyy back. To the time of the Vikings! Lafayette Spices is so proud to present to you the only spice blend on the market, with ties to that fascinating time period – Scandinavian Salt! This ancient salt is an infusion of intense spices into authentic smoked Cyprus sea salt. The infusion contains spices like cumin, coriander, pepper, turmeric, nutmeg, cinnamon, ginger, clove, and onion. To say this salt is a flavor bomb is a complete understatement!
The salt itself has origins in Cyprus – before being sent to France for infusion. There, the salt is smoked, before being infused with a myriad of intense spices.  You may not know this, but the Vikings were total food snobs – they ate a varied diet of ingredients available to them in the Northern climates. They grew barley, oats, and rye – which helped to sustain them. But also many vegetables that grew well in their native soils.
In addition to the plant based diet, meat harvested from the livestock they raised played a major role in their diet. This included cows, horses, oxen, goats, pigs, sheep, chicken, and ducks. Not to mention a large array of fish and seafood. The Vikings were skilled and agile fishermen. Oftentimes, they would smoke and salt the fish with the addition of spices for preservation purposes. This process is the inspiration behind the Scandinavian Salt!
But how does one go about using this beautiful ingredient? The smoke and spices pair so well with many ingredients. We would recommend doing as the Vikings did, and using the salt on rich roasted meats and grilled or smoked fish. The Viking Salt is just aching to be used in the winter time! Try crushing some on a leg of lamb or large beef roast just before cooking. The salt would make an incredible finishing touch to a whole roasted or grilled fish. Imagine the smoky seafood aromas mingling with the rich exotic spices of the salt. What a combination!
We know you're going to absolutely love the Scandinavian Salt – with a rich history and even richer flavor, it's going to make your food sing every time you use it. The salt harkens back to a simpler time, when food was wild and flavors were strong!