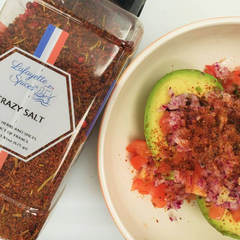 Ever have a moment when you've finished a dish and you pause… You're staring at it, just thinking about the ingredients that went into it. You know it tastes good, but could it taste better? Of course it could. This is where Crazy Salt works its magic! A little sprinkle of this and you've entered into a whole new realm of flavor possibilities. Sweet and spicy, with intense pops of flavor from spices galore, Crazy Salt will enhance just about any creation into a masterpiece.
This intensely flavored (and colored) salt is from Guerande France, a city on the western coast of the country – known for its salt marches. In these marches, salterns have been built, where workers collect up to 15,000 tons of cooking salt each year and approx. 300 tons of fleur de sel or "flower of salt" per year. The process is quite simple, tides feed the water reservoirs with sea water, where it gets trapped and begins to evaporate. That process of evaporation continues until there are only a few centimeters of sea water left. Ultimately, the salt crystalizes and produces fleur de sel and coarse salt.
After collection, the salt is seasoned with pink and black peppercorns, thyme, chili, cumin, and coriander. It's got toothsome crunchy crystals, and a flavor that just keeps on going. These added spices launch the flavor profile into the stratosphere. Seriously, this is some complex flavor chemistry here folks.
The versatility of the Crazy Salt is one of its most endearing aspects. It can be used for pre-seasoning raw meats and seafood, just as well as it can be used as a finishing salt to complete cooked items. Use it to finish sliced meats and bbq, rim a cocktail glass, or even finish a plate of French fries or potato chips. A sprinkle on grilled corn or roasted summer veggies would be divine. The possibilities are endless! Once you start using Crazy Salt – you won't be able to stop!