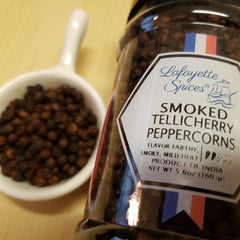 Of all the peppercorns in the world, there are few more well-known than the Tellicherry. It's like the Elvis of black peppercorns! In fact, the Tellicherry has been revered as 'black gold' since the time of the ancient Egyptians. Our version takes these treasured morsels to the next level by smoking them! That's right, we've taken this beautiful fragrant seasoning, and kicked it up a notch by hand smoking them until they sing of complex barbecue flavors and sweet smoke.
But where do these hallowed spices come from? Let's dig into that! Our Tellicherry Smoked Peppercorns hail from India – where all Tellicherry peppers come from. Their extra large berry size are due to them being left on the vine to ripen longer – just before they turn red. This technique maximizes the rich fruity notes in the pepper berries. As they dry, the peppercorns turn black and solidify the rich notes of cocoa, coffee, and dried fruit. You can even pick out citrusy notes of lime, orange, and yuzu. What an incredible spice!
As beautiful as these peppers are, we know that you know that they're not just for looking at. They're for eating of course! So, how are they best prepared? When left whole, the peppercorns can add an incredible layer of flavor to stocks, soups, and sauces. You'll need to plan on straining the berries out before serving. They'll add a touch of heat and smokiness that your guests will love. Alternatively, the could be ground very coarsely in a mill or mortar. This rougher grind is perfect for seasoning larger cuts of meat, fish, and vegetable prior to cooking. Lastly, the peppers could be ground very fine, ideal for finishing soups, salads, raw fish preparations, and ready to eat veggies.
The smoky heat of the Tellicherry Smoked Peppercorn will work well with just about any savory dish you can dream up. A course grind used in conjunction with one of our beautiful sea salts would make the perfect seasoning for a thick cut rib eye or pork chop. A fine grind could be used to season slices of raw fluke, garnished with tart grapefruit and a nice heady olive oil. The smokiness of these peppers would be magical paired with fresh summer tomatoes and peppers, alongside some grilled bread and a handful or torn basil.
Today, Tellicherry Peppercorns can be found in just about every home kitchen around the world. The addition of smoke make them that much more worthy of your recipes. If they're not already in your spice cabinet, now is a great time to add them! Bon appetite!