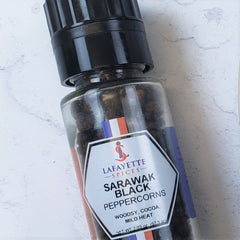 When you think of black peppercorns, you probably don't get particularly excited. (Or maybe you do?!) It's ok, we understand. Unfortunately, black peppercorns all get lumped together into an indistinguishable mash that includes really poor quality spices and some very high quality items. The Sarawak Black Peppercorn falls victim to this conundrum. But we're here to tell you, this outstanding spice is not your average black peppercorn. Oh no, it's far from it in fact. The Sarawak Black Peppercorns are some of the best in the world – with a storied providence, and bold complex flavors that will have you coming back for more.
Let's dive into a little background of where this memorable spice originates! Sarawak is a state in Malaysia, the largest in fact. The peppercorns are grown and processed on the mountainous island of Borneo.
Black Pepper
is produced from the green unripe fruit of the plant. The fruits are cooked quickly in hot water before being fried for several days during which the outer skins shrink and darken into a thin, wrinkled layer.
The Sarawak variety is amongst the best in the world – with a bold flavor and hints of fruit, cocoa, and woodsy spices. On a spice scale, the heat index is milder than the Tellicherry or Wynad pepper cousins. It does have a distinct kick that leaves a pleasant tingling zing. The beauty of this peppercorn lies in its versatility. It can be used simply as an everyday peppering spice, perfectly suitable for weeknight dinners, lunch salads, and soups. Or, on the flipside, it can be used as a fabulous finishing spice – particularly when crushed just slightly in a mortar and pestle.
But let's get to that essential question… just how exactly does one use Sarawak Black Peppercorns? We sprinkled it on a beautiful whole baby eggplant – fire roasted it – and served it with Basil Quinoa, Tzatziki and Pistachio. This spice would be incredible when cracked over delicate slices of raw striped bass or fluke. Grind it coarsely over a Caesar salad, or perhaps a tray of caramelized butternut squash. The piquant fruitiness of the pepper would be unforgettable when part of a beet salad with creamy gorgonzola. Or maybe a cocktail? A hot and peppery bloody mary with Sarawak Black Peppercorn would be a brunch beverage worth making twice.
The point it… This is not your everyday black peppercorn. But it IS a kitchen essential. Make it part of your kitchen cabinet's spice portfolio now!